Increase reporting productivity with built-in JD Edwards smarts
We built-in intelligence about the nuances of JD Edwards data so you don't have to worry about it.
Learn More
Free Trial
Solutions
Best value for your money
ReportsNow offers the clearest path to a high-value, low-cost reporting solution for JD Edwards. Complex solutions that require highly skilled technical resources are a thing of the past. And most importantly, ReportsNow is low risk to your IT infrastructure and integrity of your JD Edwards data since our products are read-only.
We are able to deliver on this proposition because our solutions are easy to install, maintain and use. In addition, they provide powerful reporting and dashboarding capabilities across a comprehensive spectrum of reporting needs. Both business users and IT discover that ReportsNow is a tool that drives better business results and is something that they can no longer live without.
With ReportsNow you can expect to
Install and start running in 20 minutes
Login with your JD Edwards credentials right away
Train new users to create and run reports in less than a day
Administer and maintain with the help of our high-quality support team
Benefit from regular software updates including new features and capabilities
Explore Products
---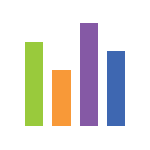 Find out more about how ReportsNow products gives you better reports for better results.