This live event has ended.
DASFest is back by popular demand. DASFest '22 is a one-day digital conference perfect for all new and veteran users of ReportsNow. It is designed to help your organization foster a culture of unsurpassed data literacy. Embrace the proven methods that yield results despite the unpredictability of the shifting global business landscape.
Evolve your reporting strategy so it's automated, accurate, collaborative, and mobile
Immerse yourself in the world-class data analytics and innovations that will propel your business forward
Share in the successes of your peers during our new Insider Stories track
Thrive with techniques that you can implement immediately for higher productivity and greater accuracy
This exclusive opportunity will spark and accelerate positive change in your organization.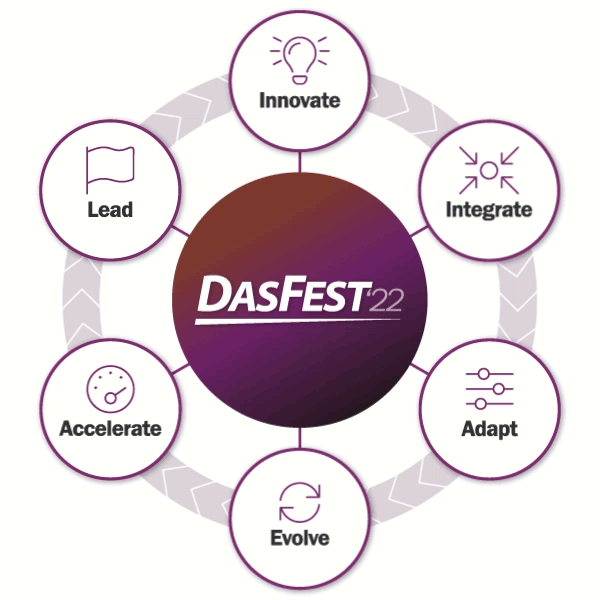 DASFest was a first class showing of how excellent a team can be.
— North American Construction Group
DASFest '21
Find inventive ways to establish and communicate your unique data story with this exclusive chance to maximize the use of your ReportsNow solutions.
Boost your expertise in business intelligence and acquire practical solutions you can implement immediately.
Simplify organizational decision making by learning to harness technology that works smarter, not harder.
Learn more about the latest ReportsNow features and functionality.
Adopt best practices to improve efficiencies and innovation across your enterprise.
Transform uncertainty into opportunity by using data as a powerful tool to drive innovation and manage change effectively.
Leading Accelerated Change
Digital acceleration is fundamentally altering the way organizations operate. The need for meaningful data and analytics to be infused throughout the organization has never been more crucial. Leaders in analytics and data are expanding their roles as well as their spheres of influence. Join us to explore new ways to help pilot your organization through the shifting global business landscape during this period of unprecedented change and acceleration.
Hone your skillset within one discipline or diversify your competencies by choosing from a variety of tracks.
Designed for today's strategist, this track covers leading trends and best practices in delivering high-value content and analytics to the enterprise. Efficacy, agility, and flexibility with your tools will become second nature, leading to your success in a way that seems near effortless.
Calling all IT professionals who support users of ReportsNow products! This track will give you pro-tips for keeping your installation running securely and efficiently. Topics include external data setup, configuring DAS security, analyzing usage, and more.
Learn from the success of your JD Edwards peers who are using ReportsNow products to transform their businesses. Each unique story offers teachable moments illustrating how to turn reporting tools into viable solutions.
Ready for a challenge? This track will augment the skills of even the most sophisticated citizen developers. Our experts will share lesser-known techniques and pro tips to cultivate your ReportsNow proficiencies.
If you are a novice ReportsNow user, this is the track for you. The sessions go beyond self-paced training to accelerate your reporting abilities. Our tips and tricks will round out your general knowledge and help you hit your reporting milestones.
DAS is a great tool and I look forward to utilizing it more and future interactions with the DAS Team.
— Treasury Wine Estates
DASFest '21
Your DASFest team is comprised of industry experts who are passionate about sharing their global understanding of the marketplace. With years of data science knowledge, JD Edwards experience, and assisting hundreds of customers, they will help you turn raw data into useful information.
Our partner ecosystem is essential to the success of our ReportsNow community. Combining their services with ReportsNow's technology helps you meet your business goals.