Discover why our customers find our solutions so amazing
Consider how long it takes for you to get the reports you need out of JD Edwards. Experience ReportsNow and you will never look back.
Learn More
Free Trial
Solutions
JD Edwards built-in smarts
ReportsNow customers quickly realize that our software is a tool that they can not live without. Our built-in intelligence about JD Edwards has a lot to do with it. It is also why our software is able to empower end users to own their reporting needs and alleviate the burden from IT.
Here are just a few examples of what is built-in
Julian to gregorian date conversion automatically on all date columns
JD Edwards users and security inherited
Associated descriptions added as searchable columns to reports with a double click
Relative dates and periods on reports based on JD Edwards fiscal date patterns
Bill of material explosion presented in parent/child hierarchy
Media objects available in reports
Unit of Measure calculation based on factors defined in JD Edwards
and much more!
Explore Products
---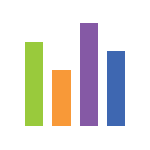 Find out more about how ReportsNow products gives you better reports for better results.