Mobie® - Mobile Business Intelligence
See the Story
Hidden in Your Data

---
Mobile Business Intelligence for the Enterprise
Mobie® is mobile business intelligence for every type of enterprise application. It provides the strategic intelligence that every company needs. Harness the power of a fully automated BI stack that produces graphical narratives with built-in JD Edwards smarts.
See the story hidden in JD Edwards data
Mobie transforms raw data into interactive visualizations that identify business trends to uncover a hidden story. Consolidate multiple reports into a single interface that combines disparate applications and centralizes vital insights. Watch mobie illustrate a comprehensive business picture in ways that no solitary report can.
Extract, transform and assemble data from multiple reports into a Web-based interface
Use any type of DAS report to build dashboards
Construct slide shows by mixing and matching dashboards and ProReports
Create optimized data warehouses to accelerate dashboard and ProReport loading time
Publish dashboards and ProReports to JD Edwards users, non-JD Edwards employees, external parties, and portals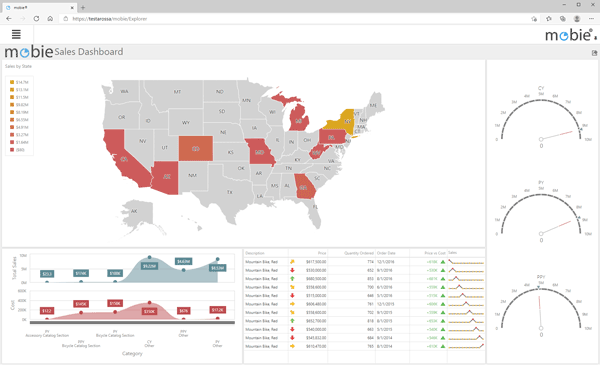 Total dashboard interactivity
Mobie provides complete interactivity of visualizations. Master filtering, interactive widgets, and the intuitive drag-and-drop design allow users to construct dashboards in a virtually unlimited number of ways. Users can tailor their experiences to their business needs.
Centralize a variety of data widgets into a single dashboard
Publish and access dashboards from any type of browser or device
Interact with a touch-enabled display that uses intuitive charts and graphics
Design schemes with a drag-and-drop feature
Create hyperlinks between dashboards
Drill down inside widgets to view underlying data details
Endless possibilities
Mobie builds sophisticated, inquiry-based reporting systems that can be made available on the Web. With the combined power of other ReportsNow products, mobie yields results that simplify strategic intelligence processes.
View sophisticated dashboards and ProReports on any Web-based device
Manage the frequency and recurrence of data-refreshing with Automator
Make key performance indictors timely, relevant, and accessible
Watch your data take shape using custom EZShapes® shapefiles and choropleth maps
Better results with better reports. Contact us to schedule a demo.