Pre-Built Reports for JD Edwards
Pre-Built Reports for Any
JD Edwards Application

---
Pre-built Data Access Studio Reports
Companies measure and monitor performance in many similar ways. With hundreds of pre-built Data Access Studio™ (DAS) reports, there is no need to reinvent the wheel.
Better results today
Templates™ is a collection of pre-built DAS reports. The assortment of templates is based on both the common business needs of JD Edwards customers and ReportsNow's expertise. These customizable templates consist of hundreds of pre-made reports across the most common lines of business.
Start creating operational reports immediately
Modify templates and build custom data fields to tailor reports to exact business requirements
Receive updates on more than 500 report templates as they become available
Access templates for all JD Edwards modules
Improve DAS user adoption and return on investment
Use a text-based search function to navigate the catalog of templates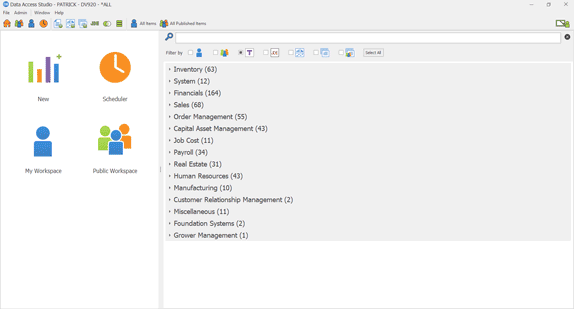 Any application, every report
The Templates collection offers value to all lines of business and end-users of all skill levels. A free 30-day trial provides the ability to browse the entire list of templates. These templates yield faster report creation while allowing customization to address the needs of individual businesses. The text-searchable collection is logically organized based on JD Edwards business systems as shown below:
Capital Asset Management
Customer Relationship Management
Financial Management
Foundation Systems
Grower Management
Human Resources Management
Inventory Management
Manufacturing Management
Order Management
Payroll
Real Estate Management
Sales Order Management
Need services? Setup a ReportsNow
assessment today.