The Challenge:
Complex Manufacturing, Compound Data
From seismic acoustics to thermal imaging, land to deep-sea systems; engineering innovation and manufacturing genius are at the core of Geospace Technologies Corporation. Headquartered in Texas and housing international offices in Canada, China, Russia, and the UK, Geospace serves the oil and gas industry with advanced scientific instruments. With manufacturing facilities throughout the world, the company has no shortage of operational data within its JD Edwards instance.
In using complex manufacturing processes across a variety of business units, it became evident to Geospace that its operations could benefit from custom-built reports. The challenge was to overcome the complexities of analyzing JDE data in order to place rich information in the hands of those that could invoke modernization.
Seismic manufacturing challenges call for groundbreaking reporting solutions. Accordingly, Geospace set out to develop out-of-bounds, variance, and voucher reports in order to better inform its scientific equipment manufacturing operations.
The Solution:
General Ledger Out-Of-Bounds Reporting
Geospace builds reports for manufacturing management at the general ledger (GL) level. As the company ran GL batches, JDE users would occasionally receive a notice indicating a segment of data was out-of-bounds.
Out-of-bounds datapoints are inaccurate numerical values in terms of accounting information. For instance, if the accounting equation "Assets — Liabilities = Equity" was not balanced, the next step would be for analysts to check for out-of-bounds data. If found, corrections would have to be made to the out-of-bounds data to ensure the GL is correct.
One common cause of Geospace's data being out-of-bounds consisted of rounding errors inside of JD Edwards. As its financial system recorded dollar values in the thousandths rather than tenths, JDE would sometimes mistakenly round up or down incorrectly. While mere pennies may not seem critical to a company's operations, being out-of-bounds by any amount can prevent a GL batch from accurately posting.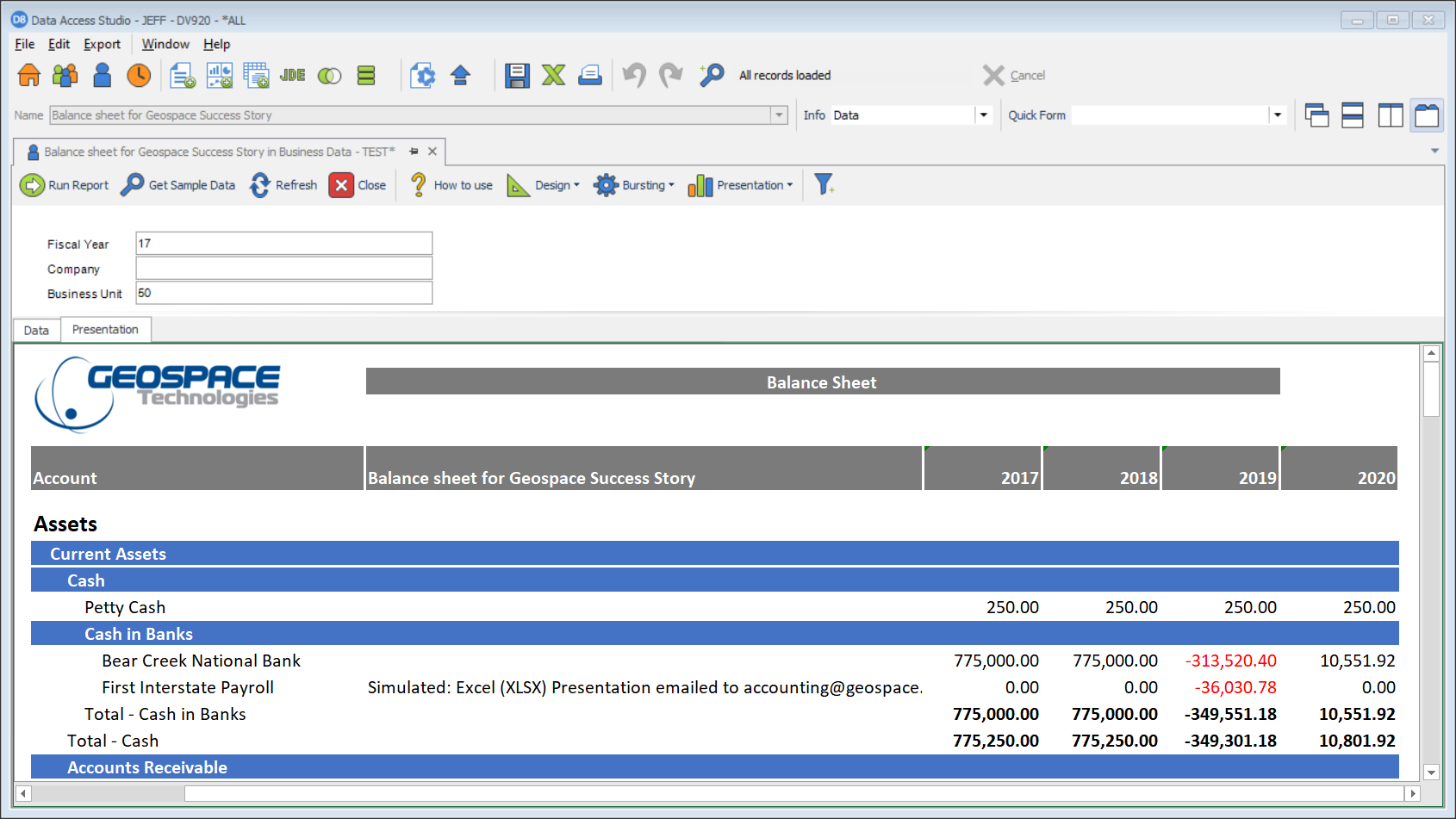 The challenge for analysts was the task of searching through hundreds of documents within the GL batch to pinpoint which document contained the incorrectly rounded data. The process of finding the out-of-bounds data took hours and involved creating complex JDE queries.
Geospace turned to Data Access Studio (DAS) to address its out-of-bounds data challenges. DAS offers the full spectrum of report development and distribution. Immediately, DAS allowed the company to query the hundreds of documents within its GL batches. Its analysts could now more easily uncover which documents contained out-of-bounds data in simple minutes. Lastly, the company could begin to send DAS reports to its finance department to correct the identified out-of-bounds data inside of JDE.
Today, Geospace is able to quickly use out-of-bounds reports to locate and correct flawed JDE data in minutes instead of hours. As a result, the company now has a swift reporting system in place to prevent inaccuracies from allowing the GL to post.
Work Order Variance Reporting
It can be difficult to properly assign manufacturing costs to operational processes. For any manufacturing company, labor and material costs are determined ahead of time within work orders. Work order variance occurs when changes are made after the initial labor and material cost rate is established.
Geospace found a key area of improvement to be identifying and analyzing cost variance regarding its labor and raw materials. In the past, its analysts performed cost reviews that involved dissecting individual work orders to identify cost variance in production runs.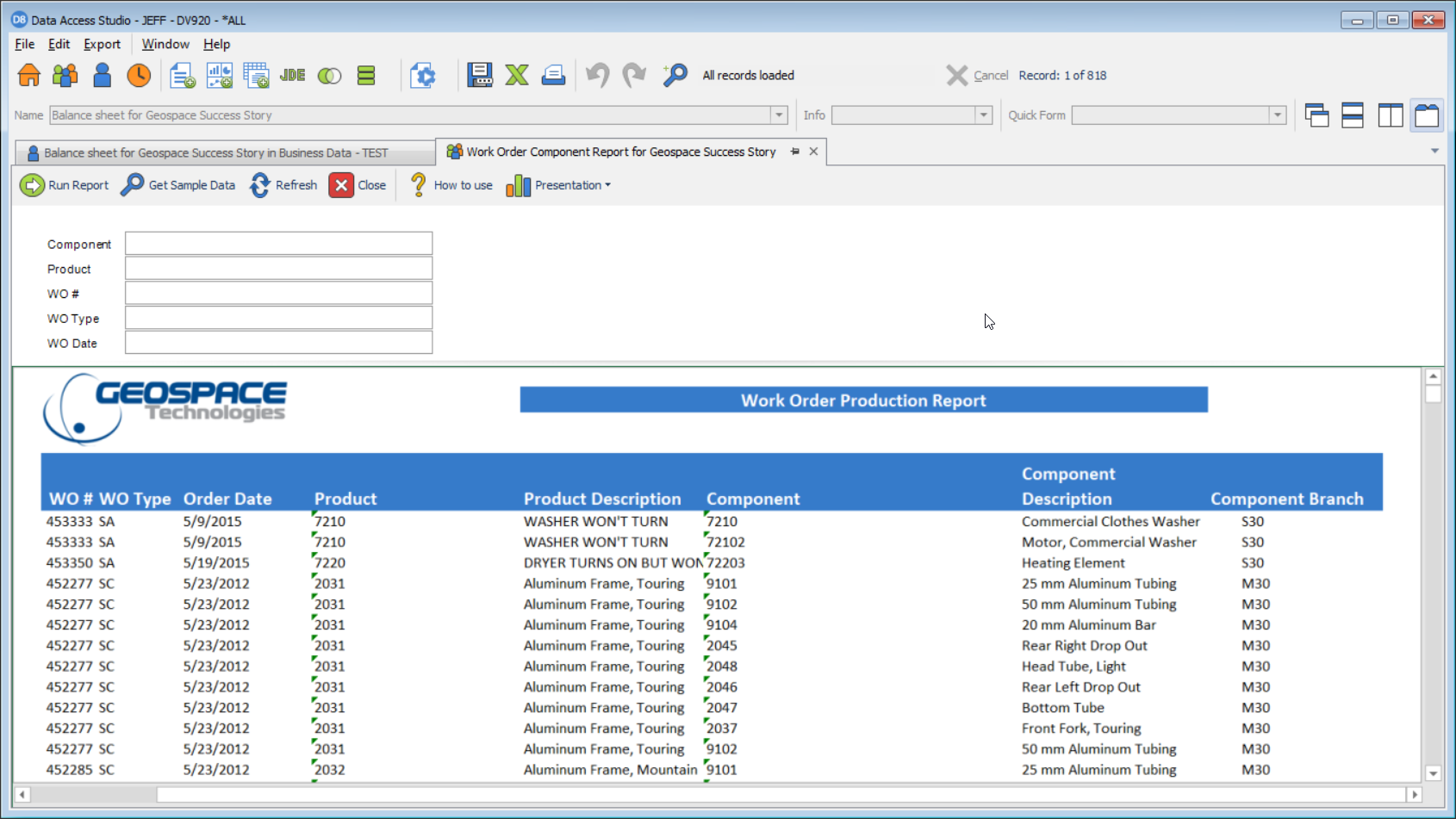 Utilizing DAS, Geospace created a work order variance report which automatically calculated and listed cost variation the company encounters throughout a work order. The work order variance report determines any type of cost differences according to the operational parameters that analysts deem important. When variance is regarded to be higher than expected, analysts know to look for flawed operational processes.
As a result, manufacturing managers use work order variance reports to help uncover what caused the change and, furthermore, use the information to improve operational processes.
Hyperlinked Voucher Reporting
Geospace provides its suppliers with supply batch inquiries that contain many attached documents. The inquiries include all company voucher documents such as supplier invoices, payment approvals, and more.
In order to review voucher documents, Geospace auditors would use JD Edwards to locate all documents, one by one. The downfall of this process was the substantial amount of time it took auditors to navigate the JD Edwards interface. Auditors requested the capability to view one report which displays all voucher documents in one interface at the same time.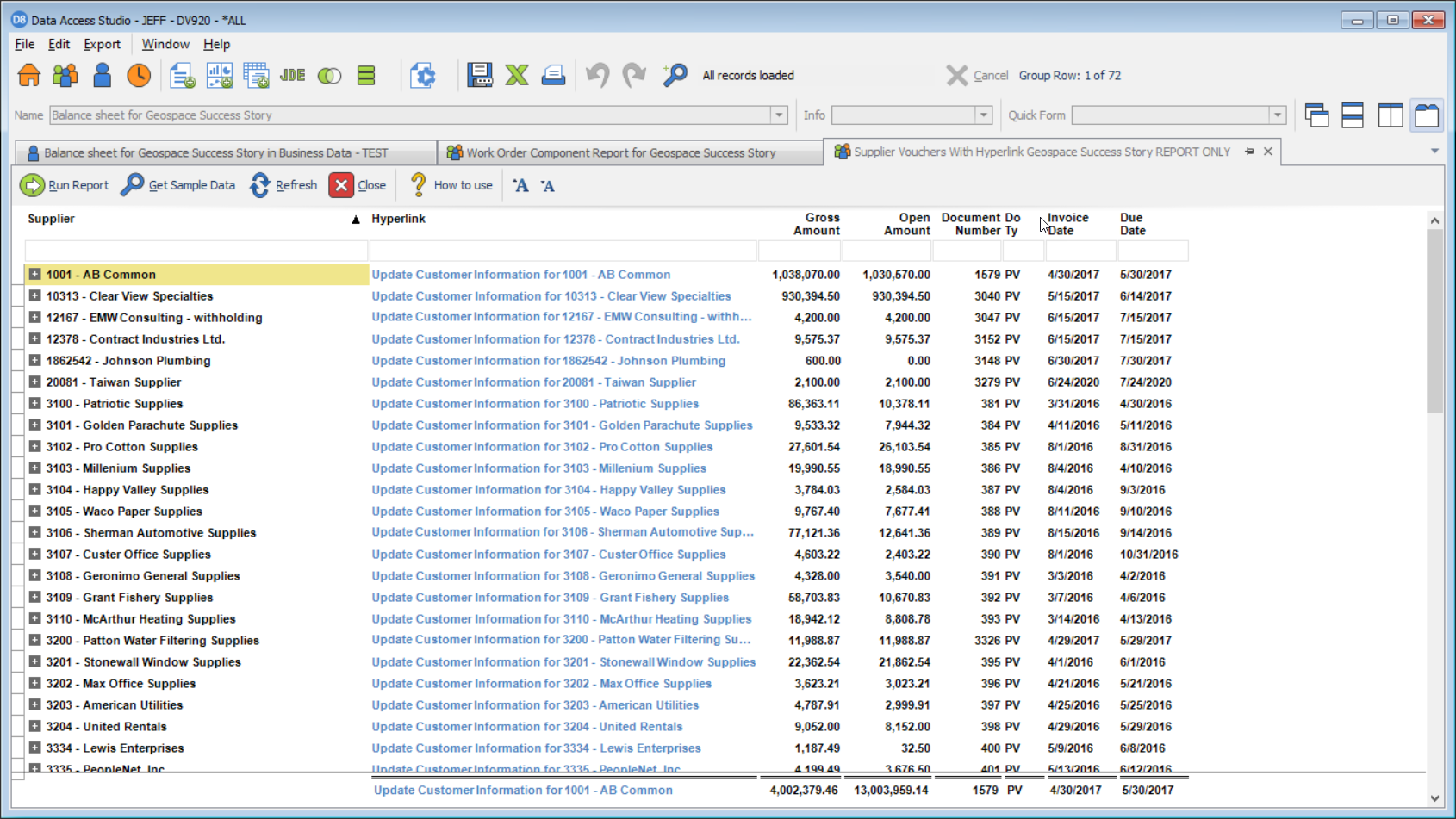 The company used DAS to create a report that placed all voucher documents into a single view while listing them with clickable hyperlinks. As auditors ran the supply batch inquiry report, DAS would list voucher by voucher, with a URL to open documents as needed. Auditors can now determine which documents are available on one screen and are able to review them with one click. Today, Geospace auditors enjoy the usability of the supply batch inquiry which provides voucher documents on a single page, eliminating screen-by-screen navigation inside JDE.
Reliable Data, Uncovering Cost Variance, and Easy Audits
Ultimately, Geospace was able to implement these three reports that move business confidently into the future, resulting in truthful JDE data, the detection of work order cost variance, and more efficient audits. The company now has accurate information at its fingertips for manufacturing with an improved understanding of operational costs.
Learn more about how DAS can bring you key reports that help to streamline your manufacturing systems to yield a more informed business.
(Note: all visuals contained are imitation examples of Geospace's builds)